Post by wsmc27 on May 3, 2012 14:20:04 GMT -8
In 101/202 (Feb) and 303 this past weekend ran the above pictured 16" carbine assembled in 2010.
Specs:
JD Machine lower/DD lpk
JP yellow trigger spring kit
A2 hg w/Solarwrap
YHM muzzle brake
Ambi-safety selector
Some no-name (ok, I forget...) A2 stock kit
3-point sling (another one I forgot, it had a Vickers Blue Force 3-pt on it previously but that is on our Mini-14 now)
Bolt-on carry handle A2 rear sight
DPMS 16" A3 upper bought from Allied Armory sale on CalGuns
Switched out oem DPMS GlacierGuards after Feb classes for fde Magpul in pic
It has been trusty and solid through a fair bit of training and range time in 2010, mostly safe time in 2011 (only 1 class
), and this year was good until after 100+ rounds last Sunday (and something over 1000rds y-t-d, nearly 5000rds total iirc).
I made Stans' Bad News Bears Failure List!

Lesson learned...never had loc-tite'd the extension tube. It loosened up just enough to release the buffer retainer, the bcg locked back and had to finish one of the run and gun exercises with the pistol backup. Great learning experience.
Had recently aquired a plasticky New Frontier Armory LW-15 complete lower for $75 (+dros/tax) on sale from Parallax Tactical in San Diego. Had it along with intention to run some rounds after class Sunday with my usual upper. It got the early call for rest of the day, and performed fine with over 500rds downrange. Had already fixed teh stock and had a spare Solar on it, though no ambi-safety.
With the LW-15 it looks like (haha the budget build on left edge of table):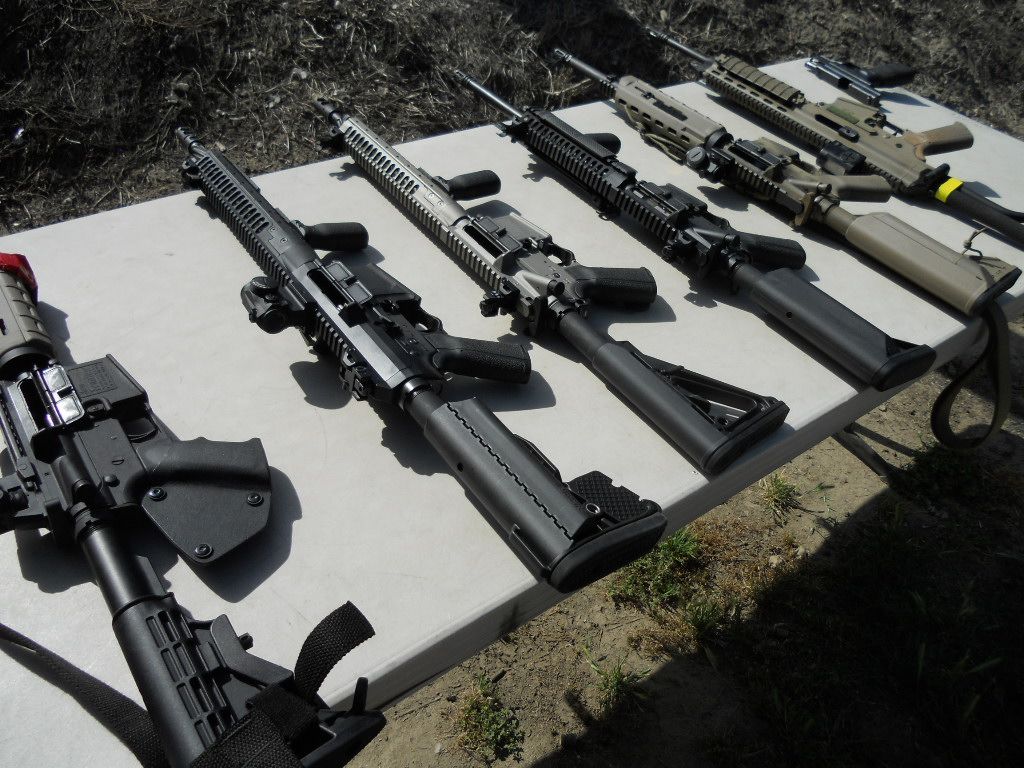 Trigger on LW-15 was kinda wierd, I def prefer the JP springs I have in the JD. Crisp release, just a lot more pull weight then I am used to. Thinking I will try a similar $10 JP kit in the LW.
Haven't weighed them, but the LW-15 complete must be a pound less then the JD w/A2 stock.
As shown in top pic I am a older/heavier person, and have been running a featureless in classes for several years now as we have had a SP-1 AR in the family since the eighties with numerous higher-cap mags.
Also, noticed several older pMags seemed reluctant to drop nicely out of the NFA LW-15, had no probs at all with several GI 30's or a couple new Troy BattleMags we tried for first time Sunday.
Thanks for looking, maybe see you at TASC sometime!

btw, sorry for huge pics, got them from Stans' pic page